Mixing console: Digital 02R YAMAHA / 40 lanes: 2 ADAT Digital Cards, 1 TDIF digital card.

Monitors: Studio DIGITAL DESIGN 161 / GENELEC 1031 Amplified / Listens Radio ELP.
Computers: Power Mac G5 Quad / 4×2.5 Ghz / Apple MacBook Pro 2.2 Ghz I7 / Apple Macbook Pro 2.5 Ghz I5.
MIDI Interfaces -Patch ROLAND A880, MIDEX 8 Steinberg.

AUDIO Interfaces: 2408 MOTU MK3 / 24 Digital In / Out- 8 Analog / 24 bit

DIGI 002r Digidesign 8 Adat – 8 Analog Card

Stereo card Presonus audiotex
Software: CUBASE SX3.1, CUBASE 8, PROTOOLS 7.3 LE, LOGIC Pro 9 / Miscellaneous Software (Recycle, Reason etc …).
Microphone: NEUMANN M 147 with suspension and tube pre amp, AKG 90 S, AKG C451, AKG SE300B (2), (CK1 CK91, CK91 (2), CK 22), professional vocal RODENT2, AUDIOTECHNICA 4050 / CM5 (+ suspensions ), AKG C535EB vocal pickup, AKG C1000S and AIWA CMS1 stereo dAT, SM58 SHURE, stereo microphone RODES NT4.

Pre amplistereo Lamps APHEX 107 TUBESSENCE.
Amps: Headphones: PIONEER SA204, Behringer Powerplay Network (x4), Cab: YAMAHA AX490, control unit: LUXMAN A331
Expanders and sources:

KORG T1 Piano, KORG Triton Synthesizer, CS 30 Analog Synthesizer, NORD STAGE 2 EX Synthesizer.

AKAI S5000 sampler.
Treatments:
/ Hardware :

YAMAHA SPX 90, LEXICON PCM 80, LEXICON MPX1, Harmonizer EVENTIDE H3000 D / SE. Equalizer 2 × 30B ALESIS, Compressors ALESIS, Harmonic Generators ULTRAFEX II BEHRINGER, Denoiser SNR 2000 BEHRINGER.
/ Sofware:

Plug-Ins Professionnels WAVES Native Power Pac+ PAZ / waves restoration, TC Native bunddle, PSP vintage warmer, PSP Master Q, LEXICON PSP.
Recording machines:
DAT Professional TASCAM DA 45 HR / 24 bit, AIWA HD S 100 Portable DAT, Mini DISCSONY MZR35, TASCAM CD-RW900 mkII Real Time CD Recorder.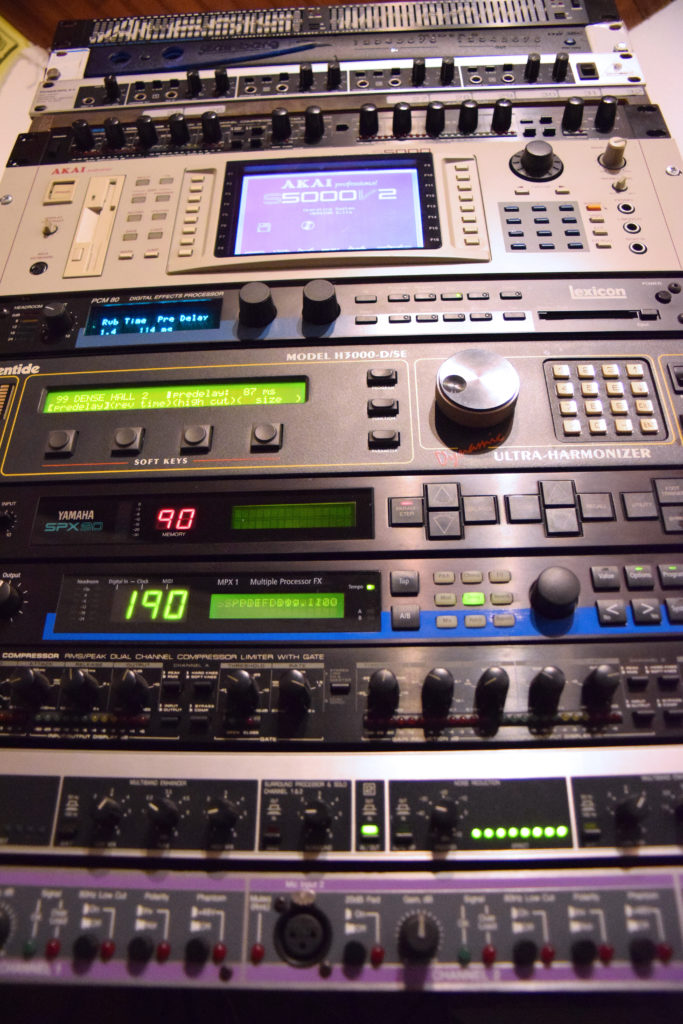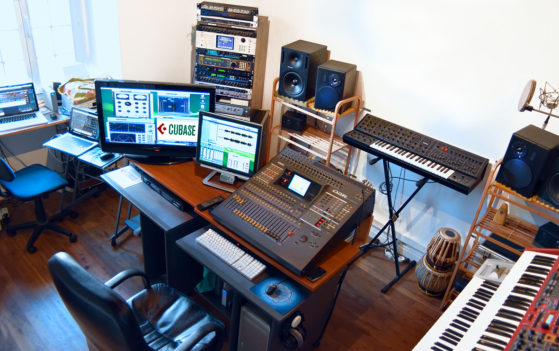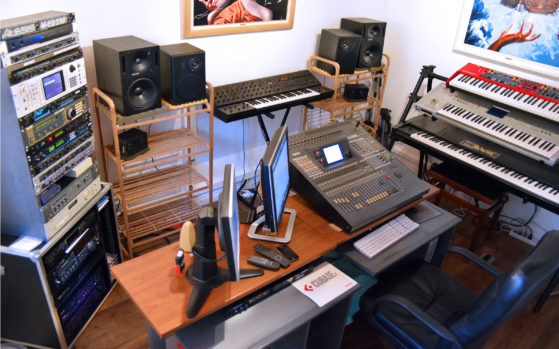 Headphones: TN'B, SENNHEISER HD450 / HD590 / HD465, SONY MDR V50 (2), SONY MDR CD 270. BEYER DT770 pro
CD Burners: Soft TOAST 16 pro titanium / Dragon burn

APPLE CD / DVD Writers (3)